VMR
Vintage Motorcycle Restorations

VMR is located in Mitchell Oregon in the heart of Central Oregon and the Painted Hills.
We specialize in finding those old vintage motorcycles and refurbishing them to show room quality.
The bike you grew up with and loved as a kid, is problably now in a junk yard or pasture somewhere.
We find them, bring them to our shop and tear it down... all the way to every nut, bolt, washer and spring. Our research is intensive and focused. We do NOT rush on anything. Frame off, engine replacement or repair, top and bottom ends, tires, wheels, guages, perches... NOTHING is overlooked. It may take us a year just to refurbish ONE bike.
But take a look at the end product.
Contact owner T. Kiefer Davis at vintagedirtbiker@yahoo.com or call us at 541.362.3848
Drop us a line and tell us about your refurbishing dreams or nightmares!
VMR
PO Box 102
Mitchell Oregon 97750
Our motto is:
We are our gear! (Thor)
Owch!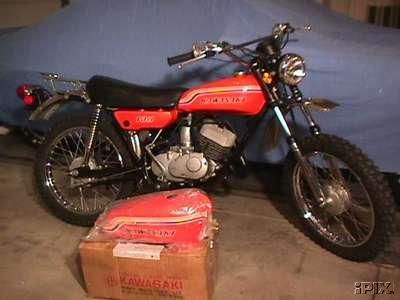 Above Picture:
1974 Kawasaki G4 100 TrailBoss 10 Speed
This site is under construction.
Yup, Got one of these! 1966 Bridgestone Hurricane 175